Journey from California to Hawaii Becomes a Nightmare for Kayaker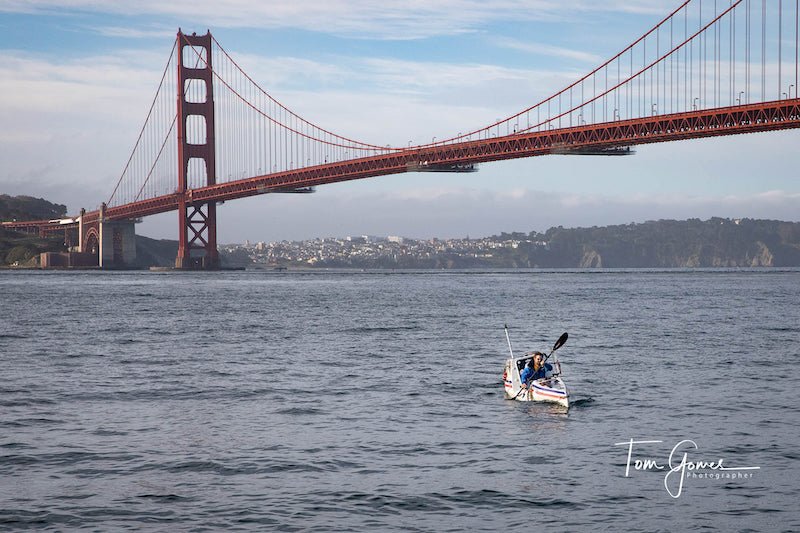 Journey from California to Hawaii Becomes a Nightmare for Kayaker
Back in 1987, an ocean kayaker by the name of Ed Gillett completed a solo paddling expedition from California to Hawaii. At the time, such a journey was seen as foolhardy and dangerous and yet Gillett managed to survive the ocean adventure, which began in Monterey Bay and ended in Maui 64 days later.
The 2500-mile (4023km) voyage was so difficult that no one has successfully completed it since. But that didn't prevent a French-born, American adventurer by the name of Cyril Derreumaux from giving it a go recently. A few weeks back, he embarked on his own attempt to follow in Gillett's wake and write his name in the record books in the process. Unfortunately, things didn't go quite as expected and the intrepid paddler had to be rescued before he even truly got the chance to get started.
Solo and Unsupported Across the Pacific
On May 31, Derreumaux launched his custom-made kayak—dubbed Valentine in honor of his sister—from San Francisco Bay. Turning west towards the Pacific Ocean and the Hawaiian Islands, he expected the journey to take about 70 days to complete, requiring him to cover approximately 2100 nautical miles (2416 miles/3889 km) along the way.
To make things even more challenging, the paddler was making the journey completely solo and unsupported as well. In adventure jargon that means he would be alone the entire way and wouldn't receive outside assistance from another boat. In fact, he wouldn't even have a support vessel following along, meaning he had no safety net should anything go wrong.
This was exactly how Gillette had done it more than three decades earlier and Derreumaux felt that it was the only possible way to try to recreate that feat. Besides, ocean rowers have been going it alone for decades and this would be just another attempt at an open-ocean crossing, albeit in a kayak rather than a rowboat.
According to his social media outlets (Twitter and Facebook), Cyril has run into some difficult conditions and has even spent several days on his sea anchor waiting for things to improve. The anchor can hold the Valentine in place without giving up too much ground while he waits for calmer winds that will allow him to resume the journey.
Off to a Promising Start
Heading out of the San Francisco harbor, the weather was nearly perfect, allowing Derreumaux to cover 35 miles (57 km) on just the first day. Not long after that however, things started to deteriorate with rough seas and high winds starting to close in. By day 2, he saw his distance drop to 29 miles (48 km), which while still respectable, would be a sign of things to come.
In the days that followed, conditions only continued to get worse. By day three, progress had slowed to a crawl as big waves and high winds conspired to keep Cyril from making any progress. He managed just a few more miles after his promising start and now he found himself paddling hard just to avoid losing ground.
By June 4, things had gotten so bad that Derreumaux decided to deploy his sea anchor. Resembling a parachute, this device is tossed into the water and is meant to hold a rowboat or ocean kayak in place. With the anchor out, all he could do was sit and wait for things to improve, climbing inside the tiny cabin at the back of his custom-built boat to escape the elements. He would end up waiting a very long time.
Ocean Rescue
Two days after deploying the sea anchor, Derreumeux was still locked in place with the weather continuing to get worse. Windspeeds reached 35-40 mph (55-65 km/h), with gusts up to 50 mph (80 km/h) at times. In those conditions, Cyril wasn't thinking about paddling to Hawaii, he was just thinking about survival.
To make matters worse, the forecast indicated that the weather was likely to remain poor or even deteriorate further. After more than four days of holding in place and waiting for things to get better, Derreumeux made the difficult decision to call the U.S. Coast Guard for a rescue.
A helicopter was dispatched in the night to retrieve the ocean kayaker, who was airlifted off the water and flown back to shore. Once on land however, it didn't take him long to start thinking about resuming the journey.
Not Giving Up
Now that things have calmed down some and he is safely back on land, Derreumeux has vowed to keep trying to complete his journey. The first step in that process will be recovering his kayak, which is still adrift at sea. The custom-made boat was designed specifically for this voyage and is equipped with radios, GPS tracking devices, navigation systems, and solar panels to keep everything functioning.
It is unclear whether or not the experienced paddler will be able to get back underway yet this year or if he'll have to wait for 2022 instead. Originally he had planned to paddle from California to Hawaii last year, but the COVID pandemic had shut those plans down. Crossing the Pacific in such a small vessel requires proper timing in order to avoid the storm season and it seems likely that by the time his kayak is recovered, brought back to shore, and prepped for relaunch, the window for this year will likely have closed.
To get further updates on his plans and progress, check out Cyril's website here.