Ryno Griesel Lesson From The Great Himalayan Trail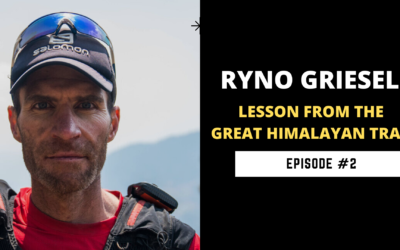 Score 82%
Score 82%
EXPLORERS POD  | Ryno Griesel| Lesson From The Great Himalayan Trail
Ryno smash fastest known time on the Great Himalaya Trail. Running a total of 1,504 km in a total of 25 days 4 hours and 24 minutes Ryan Sandes and Ryno Griesel set new FKT (fastest known time) record.
 ACHIEVEMENTS
ADVENTURE RACING
Various top 5 finishes on the AR World Series – race destinations include – Moab Dessert Utah, Ice Bergs of Patagonia, Europe, New Zealand (with Team Cyanosis)
TRAIL RUNNING
Winning the Skyrun 65km, record holder of the Hobbit 100km mountain run after back-back wins in 2012 and 2013
MOUNTAINEERING
Destinations include our local Drakens- Magalies- and Cederberg as well as Mount Kenya and Kilimanjaro in Africa, the European Alps and various destinations in the Himalayas
ROGAINE
(24 hours, pairs navigation runs – with Nicholas Mulder) – 2nd New Zealand World Champs 2010, 1st Ireland National Competition 2011, 2nd European Champs – Czech Republic 2012 and 5th at Czech World Champs 2012
MOUNTAINEERING SPEED RECORDS
The fastest crossing of the 220km (10 000m elevation gain) Drakensberg Grand Traverse in 2014 with Ryan Sandes (Red Bull project) in 41hours and 49 minutes
The fastest crossing of the 220km Drakensberg Grand Traverse in 2015 with Linda Doke as a mixed Team in 63 hours and 33 minutes
The fastest crossing of South Africa's 9 Peaks record (summitting the highest peak in every province) in September 2017 with Ruan vd Merwe and Greg Avierinos in 2 days and 16 hours
The fastest crossing of the 1507km (70 000m elevation gain) crossing of the Himalayan Mountain range with Ryan Sandes (Red Bull project) in March 2018 in 24 days, 3 hours, and 24 minutes
Crossing of the 108km (6700m elevation gain) 13 Peaks challenge in the Western Cape – Table Mountain in 20 hours and 24 minutes, with Ruan vd Merwe and Jock Green
EXPLORING THE WORLD

WITH IN-DEPTH CONVERSATIONS HOSTED

BY EXPLORERS

TODD FORNEY AND JANET BELARMINO

WITH

FRIENDS, GUESTS, AND

INSPIRING PEOPLE

FROM THE WORLD OF EXPLORATION, THE WORLD OF COMEDY, THE WORLD OF SCIENCE, AS WELL AS, ALL THE WORLD AROUND US, AND BEYOND.

A LICENCE TO EXPLORERS ANYWHERE
This episode is brought to you by:
About the TRIIM Protocol The TRIIM Protocol is an anti-aging system that helps you rejuvenate, look younger, and feel better. It achieves this by reversing biological age using a combination of Human Growth Hormone (HGH), Metformin, DHEA, Zinc, and Vitamin D. Our...